Kidderminster fire: British Heart Foundation store reopens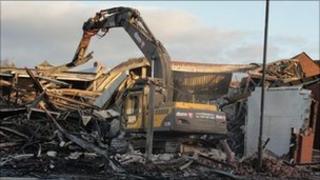 The British Heart Foundation is opening a new shop in Worcestershire four months after a fire damaged its store.
The blaze started in Levine's furniture store in Market Street, Kidderminster, on 2 October 2010, and spread to the British Heart Foundation store.
The charity said it lost about £50,000 worth of stock in the fire.
After donations from the community, the charity has replenished its stock and is opening in Worcester Street, close to its previous location.
Seventy firefighters tackled the blaze that spread from the furniture shop to a nearby frozen food store and the charity shop.
No-one was injured in the fire.