Ex-battery hens returning to health at Orleton CE Primary School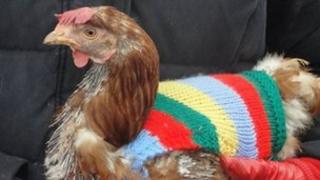 Three former battery hens are said to be showing signs of recovery after being rescued by staff at a Herefordshire school at the start of the year.
"Since we've had them their combs have just blossomed and have got some colour in them now," said Sarah Burnham, a classroom assistant at Orleton CE Primary School.
"They're beginning to scratch and bring up all their natural instincts to be a hen."
The idea to offer a home for the three, named by the schoolchildren as Milly, Molly and Mandy, was hatched at the start of the year when an EU-wide ban on keeping hens in battery cages took effect.
At the time, up to 500,000 were being kept in such cages on farms in the UK.
Ms Burnham said she decided the time was right to adopt the birds after two previous hens that had been looked after by the school were retired. The new arrivals were introduced last month.
"I did manage to persuade Mr Dunkerley, our headmaster, that it would be a brilliant idea for the children to see how, if we looked after and cared for three ex-battery hens, they could really thrive," she said.
Freezing temperatures
"We've got a lovely safe cage system here for them.
"We don't like to see things caged still, but I think you've got to consider what their outcome would have been before they came here to school.
"We have a rota of parents who come in at weekends to help feed and water them. It's never been a problem looking after them."
The school, in Orleton, is part of the Food For Life partnership and as such some of the eggs produced are used in preparing meals for the children.
But while the hens slowly grow their feathers back, the recent cold snap has caused some concern for their welfare - so much so that villagers have knitted jumpers for them.
Not everyone is a fan of the colour scheme though, with Ms Burnham pointing out the head teacher wanted the birds all "knitted and kitted out in West Bromwich Albion colours".
A spokeswoman for the school said the hens would only wear the jumpers when exposed to cold conditions and not when they are roosting or in wet weather.
The new EU legislation prevents animals being kept in cages with less that 45cm (17.7in) of headroom and 750 sq cm (116.3 sq in) floor space per hen.
New cages must also be equipped with a nest and litter to allow pecking and scratching.