St Peter's Church in Hereford to undergo redevelopment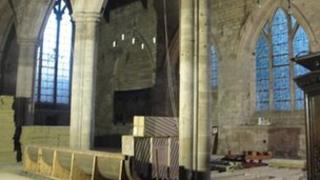 A Medieval parish church in Hereford is undergoing redevelopment which its members hope will make it more appealing to the wider community.
St Peter's Church in High Town will have under-floor heating, disabled access, lighting, a fitted kitchen and wi-fi installed.
Builders have uncovered a rare Norman stone carving, and work is due to be completed by April.
The project costs £450,000 and the church is fund-raising for new chairs.
Reverend Jonathan Coore said: ''Whenever the doors are open, people come in out of curiosity or for help or just for somewhere quiet.
"Hereford is a wonderful community with a rich diversity of people and we look forward to giving everyone a warm welcome."
He said the work would increase the church's capacity to host community events use such as parent and toddler groups, youth work, discussion groups and concerts.