PIP implants: 'I needed them out and replaced'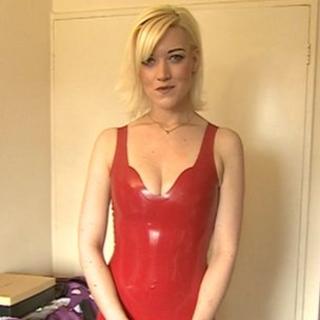 "I believe my life began when I had them, it's deeper than wanting them to make you look good."
Elizabeth Cathey, 24, from Worcester, chose to go under the knife to get Poly Implant Prothese (PIP) implants aged 18.
She said: "I was bullied at school, it was horrible and I was so unhappy - I just needed them for me and to start my life at that point.
"The operation didn't change me, it just brought out who I knew I was underneath already - I just didn't have the confidence to be who I knew I should be without them.
"They were the turning point that made me who I am - I couldn't come out of myself before."
Ms Cathey, a model, said the recent cancer scare linked to PIP implants prompted her to get them replaced.
She had the operation on Friday at the BMI hospital in Droitwich where the surgeon found they were leaking silicone.
Speaking before the operation, she said: "I've had no physical problems but I'm fed up of thinking about them, but they were the first thing I thought about in the morning and the last thing at night.
"I didn't have a scan to show if they're ruptured - if they had, I'd want them out and if hadn't ruptured I'd still want them out.
"I just needed them out and replaced asap."
Clinical need
The Harley Medical Group, where Ms Cathey had her original operation in 2006, said they had already contacted more than 5,000 people who had PIP implants.
The group said its first priority was to look after patients with confirmed ruptures.
The NHS has said 40,000 women in Britain have had PIP implants and it will remove them if private clinics refuse and there is a clinical need.
Ms Cathey said she paid £4,200 for her first operation and paid £3,100 to go privately for the replacement implants using money she has borrowed from friends and family.
She said she wanted them replaced because they had become part of her.
"To me they're not just implants, they're me now - I've grown quite attached I suppose and it was not an easy decision to have them in the first place.
"I feel like I dealt with all those issues [around having them] six years ago and I'm having to deal with them all again now."
Ms Cathey said there is a big misunderstanding around the reasons why women have breast implants.
"It makes me angry - just because it's under the cosmetic surgery category, it's still a medical procedure, it's still a big operation where you're put to sleep and it's painful.
"It's wrong to judge us, it's deeper that wanting them to make you look good - I did it to live my life."