Staff hours 'hit by Teme Bridge work' in Tenbury Wells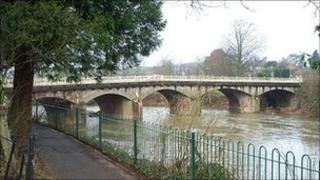 Traders in a Worcestershire town have reduced staff hours due to low sales which they claim is partly caused by a road closure for bridge repairs.
Teme Bridge in Tenbury Wells was closed to cars on 9 January for reinforcement work due to be completed on 16 March.
Tenbury Wells Chamber of Trade said shopkeepers were missing out on a lot of passing trade due to bridge work.
Worcestershire County Council said it had appointed the contractors who could complete the work in the shortest time.
The bridge is a historic monument and parts of it date back to medieval times. It is also the main route into Tenbury Wells.
Council grant
Sadie Chalkie, president of the town's chamber of trade, said: "There is no doubt that trade is suffering and with the financial constraints the whole country has, it's really beginning to show with customers coming in and saying 'oh, no, I can't afford that'.
"[It] doesn't help at all, when you have lost a lot of your customers because they can't get to you."
She said food shops were particularly suffering, and a number of employers were reducing the number of shifts they were offering and enforcing short-time working for some manufacturers.
Work on the bridge was originally due to take six months but the council announced in November that work was estimated to finish three months ahead of schedule.
The county council and Malvern Hills District Council have provided a £50,000 grant to help mitigate the impact of the bridge closure for local firms to spend as they choose.
A dedicated shuttle bus service is running from Monday to Saturday for the duration of the works linking the bridge and the Bromyard Road business park.
Temporary, free and unlimited car parking for 55 cars has been provided on the Burford side of the river for the duration of the bridge closure.