MP wants bigger businesses in Kidderminster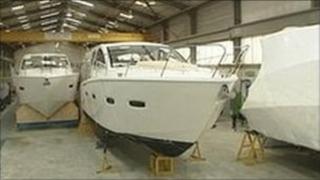 Kidderminster needs to attract bigger businesses to stabilise the local economy, according to its local MP.
Mark Garnier, Conservative MP for Wyre Forest, was reacting to news that luxury boat builder Sealine is set to cut 72 jobs.
The company, which employs nearly 400 people, shed 37 jobs in October.
Last week, carpet firm Brintons - a family business for more than 200 years in the Worcestershire town - announced a possible 150 job cuts.
'More fragile'
"Our problem lies in that we have too many small manufacturers... too many micro businesses," said Mr Garnier.
"They're absolutely fine, there's nothing wrong with them, but when problems start striking, they tend to be a little more fragile.
"What I would like to see would be one or two more of the bigger businesses coming in that include more than 250 members of staff.
"The reason why they're important is because they have a certain amount of stability amongst them."
Bill Griffiths, Sealine's managing director, said: "In order to keep our business strong and growing we need to keep our overheads in line with current demand and to take on board the impact that the global economic situation is having on the leisure marine market as a whole.
"We have therefore taken the decision to cut our workforce in order to protect the long-term prospects of the company."