Newlyweds from Hagley swap wedding list for bucket list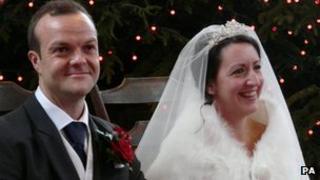 A newlywed Worcestershire couple have decided to exchange their wedding list for their "bucket list".
Clare and Dave Roberts, from Hagley, are set to fly out to Kenya for their honeymoon to build a refuge for young Maasai girls.
They have funded the trip by asking friends and family to give money rather than buy items from a wedding list.
The couple, who got married in December, will be working for the worldwide aid charity Mission Direct.
Mrs Roberts, 33, is a teacher in Birmingham, and her husband, 38, is a support worker who works with adults with learning disabilities in the city.
They will join a group of aid workers helping to build a refuge for young girls from the Maasai people who are fleeing female circumcision and forced marriage.
'Building work'
Speaking at a special training day ahead of their two-week trip, Mrs Roberts said: "We came up with the idea of doing this for our honeymoon and asking people to contribute towards the cost of the trip instead of the usual John Lewis list.
"People have been amazingly generous and we have had to provide very little ourselves.
"That freed up our money to give straight to the project itself.
"I have always regretted not having had a gap year when I was younger and have wanted to go to Africa to do some charity work for a long time.
"We looked at the available projects in Africa and considered the ones which took place in the school holidays.
"We were drawn to Kenya because of the chance to go on a safari at the end.
"We were also drawn by the idea of working with children, which both of us enjoy doing for our jobs, and helping with some building work, a new challenge for both of us.
"We're not really the sitting on the beach types and wouldn't feel comfortable booking a luxurious romantic holiday for ourselves.
"This will be one of the most memorable things we'll do in our lives, I expect, and that is what we wanted from a honeymoon."
Mission Direct is a Christian charity that enables teams of volunteers from the UK to participate in projects that benefit communities in some of the world's poorest countries.