Hereford homeless project starts up in Worcestershire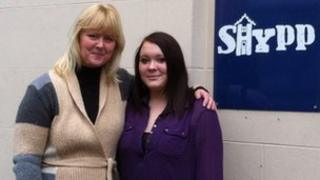 Meg Priday from Leintwardine has been through more than most 18-year-olds in the last year.
She said: "My mum chucked me out when I was 17, we never saw eye to eye and I was getting into trouble at college.
"After that I didn't have anywhere to go and it did make me feel scared."
She slept on a friend's sofa for one night and spent five nights at a B&B with council support in Leominster before the Supported Housing for Young People (SHYPP) stepped in.
"My life completely changed, I don't know what I would have done without their support," she said.
'Close to my heart'
The project in Herefordshire has been up and running since March last year and a similar set up is in the process of starting in Worcestershire.
The idea is to encourage people in the area to 'host' a young person between the ages of 16 and 21 who is homeless or at the risk of being made homeless.
Hosts go through a rigorous three month training process and get paid £150 a week, although Lisa Swift, who looked after Miss Priday for eight months, said the money becomes academic to the rewards of the role.
She said: "It's something that's close to my heart - I found myself sleeping rough [in Yorkshire] and sofa surfing and acutally sleeping on a park on a bench.
"A lot of horrible things were in front of me, I could have gone down the wrong road and I pulled myself out of that but it would have been so much easier with support like SHYPP.
"They support me as a host as well as each young person and it becomes kind of like a family thing, they become part of the family."
Miss Swift, a carer with a teenage daughter of her own, is one of seven Hereford hosts and has taken in three youngsters, including Miss Priday, after getting involved in SHYPP last summer.
"It's fantastic and so rewarding to see their confidence grow and help them manage different life skills like budgeting and turning themselves round.
"It's helping them do something really positive like moving on and getting a job - I'm really proud of them."
Mel Turner from SHYPP said Miss Priday is just one example of the success of the Herefordshire project and said the recruitment process for hosts in Worcestershire has begun.
She said: "We've had lots of interest so far, about 14 people have enquired from all different backgrounds.
"There's no perfect host or specific criteria, we need people with a range of skills - most importantly they need to be friendly and approachable with the ability to put people at ease."
The Herefordshire Council-backed project, which also includes the Supported Housing After Care (SHAC) scheme, had 480 referrals last year, higher than the target predicted.
Ms Turner said not every youngster could be placed in a home with a host - 10 have been placed in Hereford since March - because it depended on individual circumstances and the number of hosts that have been trained.
Centrepoint, the national charity for young homeless people, said 80,000 young people in the UK experienced homelessness each year and fully supports projects like SHYPP.
Chief Executive Seyi Obakin said: "They may not be a suitable option for all young people, and cannot replace supported accommodation for those with additional needs, but supported lodgings schemes can be a useful weapon in the armoury to help end youth homelessness for good.
"With an increasing shortage of social housing and cuts to housing benefit, housing options for young people are more limited than ever."
'Not a nice place'
At the last count in 2009, Worcestershire County Council recorded 278 young people aged 16 to 24 who were homeless.
Miss Priday said the presence of SHYPP and hosts like Lisa who give young people the change to get long term support could only be positive.
She said: "When I met Lisa we clicked as soon as we first met, I can't describe the relief when she picked me up."
Miss Priday later moved into supported lodgings in Hereford and later this month will move into a rented flat.
"It feels like a good step forward, SHYPP has helped put me on the right path, they don't tell you what to do but they let you make those independent choices.
"I'm coming up to my last assessment in my cadet nursing course which means I'll qualify as an auxiliary and I'm planning to do more training to build myself up."
She said the relationship with her mother had improved too.
"They've helped with rebuilding that and I went to visit her last weekend, things are a lot better - it's completely different now.
"That time when I had nowhere to go was just really scary, it's not a nice place for any young person to be in."