Eckington house fire couple named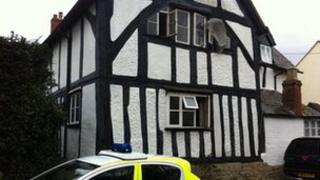 A Worcestershire couple who died after a fire at their home on Friday have been named.
Valerie Herring, 69, died on Saturday, while her 72-year-old husband William Herring died on Monday morning.
The couple were taken to Worcestershire Royal Hospital after the fire which started in the kitchen of their home in the village of Eckington.
An inquest has been opened at Worcestershire Coroners Court and adjourned, pending further reports.
Paramedics found Mrs Herring in cardiac arrest at the house in Jarvis Street at about 19:30 GMT on Friday.
Her husband was found unconscious, suffering from smoke inhalation.
Hereford and Worcester fire service said the blaze produced large amounts of smoke which spread throughout the house making search and rescue operations difficult.
A joint police and fire service investigation is continuing to determine the exact cause of the fire.