Worcestershire schools set for London 2012 canoe relay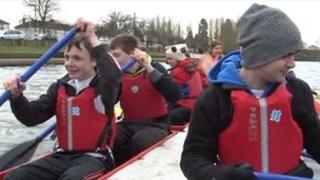 Hundreds of children are training in canoes on the region's waterways for a special relay event.
It has been organised by Andy Train, an ex-Olympic canoeing competitor, as part of Get Set, the London 2012 education scheme.
They will be taking part in a four-month relay, which starts in Aylesbury, Buckinghamshire and ends in Evesham.
Mr Train is also a teacher at the Vale of Evesham School and has been helping the children with their training.
The relay, which starts on Thursday, will involve the children travelling in bell-boats, which are twin canoes.
Pupils from the Vale of Evesham special needs school will begin in Aylesbury, near Stoke Mandeville, which is the birthplace of the Paralympics.
They will be doing half of the route, of around 50-60 miles, and it will then be shared among schools between Stoke Mandeville and Evesham.
Mr Train said: "The symbolism behind the journey is the fact that we're bringing the values of the Paralympics and the Olympics from their homes back to Worcestershire and by doing that we can talk to the children of Worcestershire about friendship and determination."
He competed internationally in canoeing from 1981 to 2001 and has competed in five Olympic Games, participating in sprint canoeing.
Mr Train was once the best in the world in marathon canoeing and was coached by his father, who invented the bell-boat.
He continued: "We took part in the Olympics, my dad was the coach and my brother was my doubles partner.
"Every four years, you get 10,000 competitors and the rest of the world watching, and he [Mr Train's father] wanted to create something that everybody of every age and ability could take part and work together."
It is estimated that around 3,000 will compete in the relay, which ends in June and will include other Worcestershire pupils in the final leg of the journey.