Alvechurch School coach crash: Son reunited with family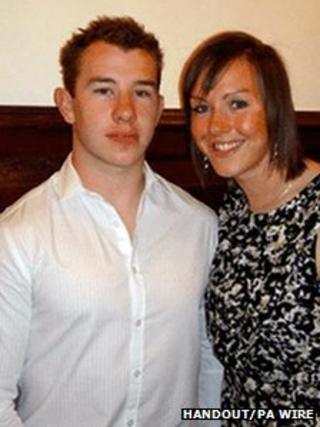 The son of the teacher who died in a school coach crash in France has flown over to be with his mother and sister, who remain in hospital.
Max Rippington said he was "delighted to be reunited" with his mother Sharon and sister Amy following the crash which killed his father, Peter.
Alvechurch teacher Peter Rippington died and more than 20 people were hurt in Sunday's crash near Rheims.
The coach driver has been charged with involuntary manslaughter.
The Foreign Office said most of the 49 British nationals who were on the coach were back in the UK, but seven people remained in hospital in France.
A statement issued by the family said: "Max Rippington, son of Peter, who was so tragically killed in the horrific coach smash on Sunday, and Sharon Rippington, badly injured in the same incident, is delighted to be reunited with his sister Amy and his mum, Sharon.
"Sharon, who suffered multiple injuries to her face and back, is recovering in hospital and is able to talk with family and friends.
"Amy is also with her in hospital and is being treated for bruising and severely aching muscles.
"They all, Sharon, Amy, Max and family, wanted to express deep thanks to all for the very kind tributes and support being given.
"It has given them all enormous strength, comfort and pride."
Initial tests
Mr Rippington, 59, died when the bus he was travelling in with a group of schoolchildren on their way home from a ski trip overturned and plunged to the bottom of a motorway embankment in the Champagne-Ardenne region .
The driver of the coach, Derek Thompson, 47, said he had "no recollection" of the accident, prosecutors revealed.
He is being investigated for involuntary homicide and involuntary wounding after the accident, which involved 29 pupils from Alvechurch Middle School in Worcestershire.
In a statement released after a court hearing in Chalons-en-Champagne, prosecutor Christian de Rocquigny said: "In his presentation before a judge late Monday afternoon, the driver explained that he had no recollection of the circumstances of the accident.
"While in custody, after denying falling asleep, the driver acknowledged that it was possible that he was drowsy."
Initial tests had shown Mr Thompson was not under the influence of alcohol or drugs and local police were said to be investigating whether he might have fallen asleep at the wheel.
'Inspirational teacher'
In an earlier statement, Mr de Rocquigny said: "Witnesses who were driving in the area near the coach saw the vehicle repeatedly swerve towards the verge.
"The tachograph indicates some unexplained variations in speed in the nine minutes before the accident," the judge said.
The 47-year-old has been allowed to return to the UK, with certain conditions attached, the prosecutor said.
Pending his return to France to face any legal proceedings, he must "inform the judge of any travel outside Great Britain", and is also banned from "contact with victims and families of these, except the other driver", and banned from "driving on French territory", he added.
Tributes have poured in for Mr Rippington, who was described by Bryan Maybee, chairman of the governors at his school, as a "dedicated and inspirational teacher".