Midland Parking Contracts car clamping 'like being robbed'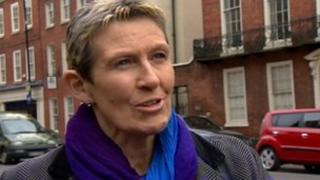 Victims of an illegal car clamping operation in the West Midlands have said they felt they were being "robbed".
Judge John Cavell at Worcester Crown Court agreed with them, jailing five people from Redditch-based Midland Parking Contracts (MPC) on Tuesday.
Helen May, from Malvern, had to pay £125 to get her vehicle released from Farrier Street, in Worcester, late at night.
"I felt that if the clampers had held a gun to my head and taken the money I couldn't have felt any worse," she said.
'Dark alley'
"I felt angry, traumatised and emotional. I felt I had been robbed."
She said a friend had needed to go back into the city centre to withdraw the cash she needed to have her car released.
"By this time it was late at night and she had to go down a dark alley," Ms May said.
"I was outraged that she had to take the risk of being mugged to do this."
Most of the complaints centred on the Bromsgrove and Redditch areas but police investigated a total of about 1,500 incidents spread across the Midlands.
NHS worker Alison Overton was driving a van carrying drugs, patients' notes and blood specimens when it was clamped on waste ground at the back of the Slug and Lettuce pub in High Street, Bromsgrove.
Miss Overton, who had been in uniform and making a quick delivery, said she returned to find MPC staff preparing to clamp her van. She said despite efforts to reason with the clampers, she ended up parting with £150.
Miss Overton, from Redditch, said: "I felt intimidated and was also aware of the inconvenience it would cause to patients if there were any delays.
"These people were just making money out of causing misery."
Another victim Mark Gillet was supposed to be a pall bearer at a funeral, but his car was clamped moments after he parked outside the church.
Dorothy Webb, from Wolverhampton, had to pay £297 to have her car released, one of a number clamped one night near a restaurant on Birmingham Road in Bromsgrove.
She said: "I hadn't realised I was doing anything wrong when I parked next to the restaurant. I was in a party of women and we felt intimidated.
"It was a cold, snowy night, and I paid the £297 demanded because I just wanted to get home."
'Barrage of complaints'
Det Sgt Mark Roberts, from West Mercia Police, said the force regularly received "angry and distressed" calls about clamping.
"Of course all drivers are going to be unhappy about having their vehicles clamped or towed," he added.
"However, the barrage of complaints we were receiving about MPC prompted us to launch an investigation, and it showed the company and its employees were effectively demanding money with menaces."
He said warning signs had been placed high on walls, and were often difficult or impossible to see, especially in the dark.
Khalid Mahmood, Labour MP for Perry Barr has called on the government to change the law regarding car clamping.
He said clamps should be fitted, if necessary, by traffic wardens, rather than private companies.