Austin House in Worcester given listed building status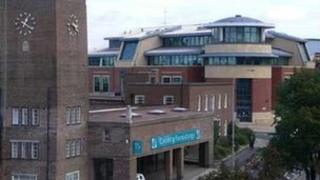 A former car showroom and garage in Worcester, built in the 1930s, has been made a listed building.
The H A Saunders building in Castle Street was designed by Scottish architect John Carrick Stuart Soutar.
The building's clock tower is a distinctive landmark in the city.
Councillor David Wilkinson, from the city council, said: "The value of this building has long been recognised locally but it's very pleasing to see it getting national recognition."
The building, originally called Austin House, was designated a Grade II listed building as a result of an English Heritage project to assess the impact of the car on the historic environment.
It was built on the site of the county jail and is currently a furnishings shop.
English Heritage said the design drew inspiration from contemporary buildings across Europe such as Stockholm City Hall, Hilversum City Hall in the Netherlands, and Norwich City Hall.