Alvechurch School coach crash families thank French medical staff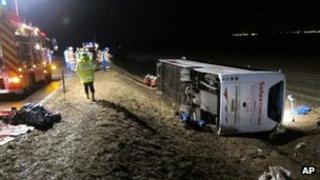 The families of two Worcestershire schoolgirls injured in a coach crash have paid tribute to medical staff in northern France.
Pupils and staff from Alvechurch School were among those returning from a skiing trip when their coach went down a motorway embankment on Sunday.
Teacher Peter Rippington, 59, was killed and more than 20 were injured.
Taylor Little, 13, and Freya Smith-Carrington, 11, are still undergoing treatment in France.
In a statement released through the Foreign and Commonwealth Office, their families said they wished to thank medical staff and the authorities for their support.
They added: "The girls are currently being treated in hospital and hope to return home very soon.
"Our prayers and thoughts are with the Rippington family and all of the other injured children and adults."
The school party were returning from a skiing trip in Val d'Aosta, Italy, when one of two coaches went down the motorway embankment near Rheims at about 02:30 GMT on Sunday.
The driver, Derek Thompson, 47, appeared before a judge in Chalons-en-Champagne on Monday and has been charged with involuntary manslaughter.