Oswestry history charted as new museum opens in town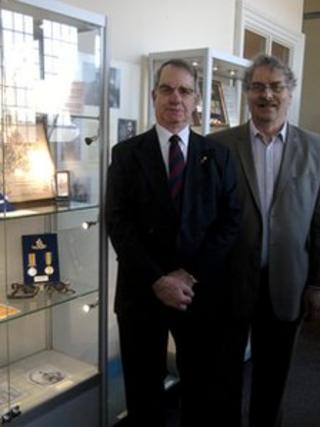 A new museum dedicated to the history of a Shropshire town has been officially opened.
Oswestry Town Museum is housed in the Guildhall where the town council offices are based.
It charts the town's history and also reflects other heritage organisations in the area.
The museum opens to the public on Friday, 2 March and will initially be open on Wednesdays, Fridays and Saturdays.
Mark Hignett, a director and volunteer at the museum, said the idea for the project had been put forward in 2011 by the Oswestry Heritage Forum, a group of local heritage organisations.
He said they had managed to get it up and running in less that 12 months as a result of "teamwork".
"We've had the support of the whole of the heritage sector from Oswestry and the surrounding district.
"The town council has been absolutely fantastic.
"We're delighted and very proud."
Baton offered
Mr Hignett said there had been a "huge amount of interest" with people offering items for display.
Oswestry Choral Society had offered a baton that had been presented to a conductor in 1866.
The museum is located on the top floor of the Guildhall building which used to house the town's magistrates court and Mr Hignett said they would be retaining the court's features.
He said there would be a "core collection" connected to the town's history, a timeline and displays to "signpost" visitors to other heritage organisations in the area.
The museum was officially opened by the Mayor of Oswestry, councillor Cynthia Hawksley.