Astwood Cemetery Worcester to hold Mother's Day service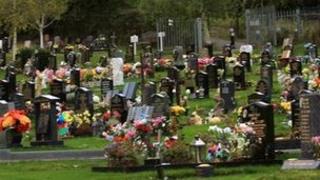 A cemetery and crematorium in Worcester is to hold a Mothering Sunday service for the first time.
The service will be held in the chapel at Astwood cemetery and will be relayed outside with speakers.
Pam Hinks, from the Friends of Astwood Cemetery, said: "A lot of people who have lost their mothers go to the cemetery every year on Mothering Sunday to put flowers on the graves."
The service will take place at 15:00 GMT on Sunday, 18 March.
Phil Burton, from Worcester City Council, said Mothering Sunday was one of the busiest days of the year at the cemetery.
"The service will give people an opportunity to come together on this special day for mums," he said.
The service is expected to last for about an hour and will be conducted by the Reverend Peter Haddleton, vicar of St Barnabas Church, Worcester.