Worcester University expansion plans get £1m loan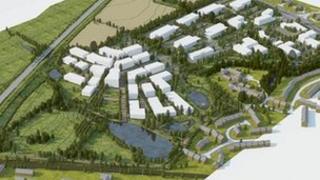 An interest free loan of £1m has been given to the University of Worcester to help with the building of its new University Park.
The money comes from the government's Growing Places Fund.
The proposals for the former Grove Park siteinclude three campuses for learning, business and health.
A hotel, care home, creche and nursery would also be built and it is hoped the site would create about 2,000 jobs, the university said.
Prof David Green, University of Worcester Vice Chancellor, said it was "delighted" to be given the interest free loan.
"University Park offers a very exciting opportunity to create a dynamic new centre for our region," he said.
Worcester City Council has said it supports the plans, which include landscaping ideas, but councillors have asked for a planned medical centre to be redesigned.
A spokeswoman for the council said the plans were likely to get final approval once the design for the St John's House surgery had been amended and resubmitted at a future planning meeting.