Fownhope and Mordiford campaigners restore village bus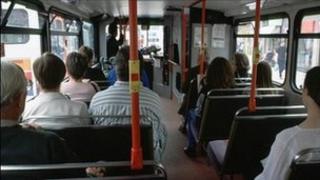 A bus service has returned to two Herefordshire villages following a seven-year break after a campaign led by parish councillors.
The 458 service, which will go from Fownhope and Mordiford to Ross-on-Wye once a month, starts later.
The service has been subsidised by two parish councils and will run for a six-month trial to see if it is used.
Fownhope parish councillor David Clark said it followed "great demand" for the service to be restored.
He said a previous weekly service to Ross-on-Wye was stopped by the county council in 2005 as it was not well used.
The bus will leave Mordiford at 09:30 GMT and take 35 minutes to reach Ross. The return service leaves the market town at 12:35 GMT.
Mr Clark said: "The previous service went all round the houses but we have knocked about 40 minutes off the journey."
He said bus services currently only went to Hereford and 14% of households in Fownhope did not have a car.
'Use or lose'
Residents had called for the service to be restored at well-attended meetings run by the parish council, he said.
"People who haven't got a car haven't got a choice and it's important to give people a choice - albeit once a month."
Fownhope as well as Dormington and Mordiford Parish Council have so far paid about £650 to subsidise the service.
Mr Clark said it was the first time a parish council in the county had funded a scheduled bus service.
An adult return will cost £3.70 but be free to pass holders.
"We must emphasise that this is a 'use it or lose it' scenario, because if the service isn't used enough, we won't be able to continue it after the trial has ended in August," Mr Clark said.
He said "massive interest" in the first journey meant a 33-seater rather than a 21-seater vehicle was going to run.