Teme Bridge work 'hits trade by 50%'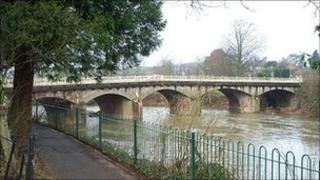 Traders in a Worcestershire town say the closure of a bridge for repair work has hit takings by as much as 50%.
The historic Teme Bridge in Tenbury Wells closed to most traffic for repairs on 9 January.
Sadie Chalkie, from Tenbury Chamber of Trade, said: "Some traders have said they've noticed takings down by up to 50%, others have said about a third."
Worcestershire County Council said the bridge should reopen later, more than three months earlier than planned.
The bridge has remained open for pedestrians, mobility scooters, cyclists and motorcyclists.
Ms Chalkie said: "It's a big relief to have the bridge reopening, the main street has been like a cul de sac which means no footfall of passing customers.
"It's been a tough time, it's hit everybody to some extent."
'Struggle' for firm
David James, who owns the Swan Garage and Tenbury Farm Supplies, said his business had been particularly affected by the closure.
He said: "It's been a struggle to keep going, we've had to put staff on short time because of the downturn."
When the bridge closed, the county council and Malvern Hills District Council made a £50,000 grant available for businesses to spend as they saw fit.
County councillor Ken Pollack said: "It's fantastic that the bridge is reopening and it's one week earlier than the three months ahead of the original schedule.
"Now we do need to encourage shoppers to come back to the town."