Puppy in 'remarkable' surgery recovery in Ross-on-Wye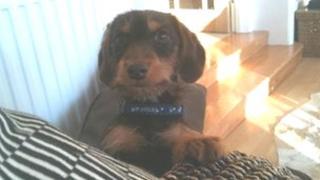 A puppy born with serious heart problems has had an emergency operation in Herefordshire.
Dachshund Jack Russell cross Bisto was born with a heart which operated as if he was still in the womb, Chase View Veterinary Clinic in Ross-on-Wye said.
His owner, clinic receptionist Carolyn Price, said he was "a little miracle".
Kate Kerry, who carried out what was the most complicated operation the clinic had ever done, described his recovery as "remarkable".
'Enlarged massively'
She said: "About an hour after the op he was wagging his tail and filling his face with food as if nothing had happened.
"[On] his first night post op, the only complication was we couldn't keep him still enough.
"What would have happened over the next weeks to months [without an operation] is one side of his heart would have enlarged massively, become ineffective and he would have gone into congestive heart failure and died really quite quickly."
The puppy, who was born in November, was about 1kg underweight at the time of the operation at the end of January, the clinic said.
His owner said she acquired the dog following the surgery and his breeder had named him Bisto after the gravy product because "everybody was saying 'aah' when they saw him".
Mrs Price said: "I've only been here since November and [my husband] made me swear I would not bring any animals home.
"Well I kept that promise for what, three months? [I] saw Bisto and thought, 'no I've got to take him home'.
"He was like a bag of sugar. He's only 2.4kg now. He's still as light as a feather."