Herefordshire villagers save Crown Inn by buying it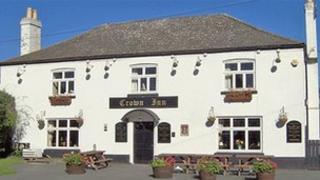 Villagers in Herefordshire have bought their local pub in a bid to secure its future, less than a year after saving their school.
The Crown Inn, in Dilwyn, was bought from Punch Taverns by the parish council for about £250,000 before it went to auction.
Parish Councillor Elaine Stillwell said the pub had been the hub of the village and was important for the community.
The council used grants and a public works loan to raise the money.
Council Chairman Peter Kyles said: "We've lost our shop, we've lost our post office. The school's going very successfully and we hope on this site to develop a community shop."
Mr Kyles said the council planned to attract a tenant for the pub, with the rent expected to cover the loan repayments.
The council said the pub, which has been closed for the past six weeks, was expected to reopen in May.
It added that any tenant would be directly answerable to the community.
St Mary's Primary School, in the village, was saved last year after volunteers came together to run it as a non fee-paying independent school.
Head teacher John Gerrish said: "The community has certainly got behind the school, which is why we are still running, and they've got behind the pub in a way that is quite astonishing.
"This village is such a fantastic community and anything that can be done... to ensure that sense of community continues is worth doing."