Funeral for Herefordshire tractor crash mother and son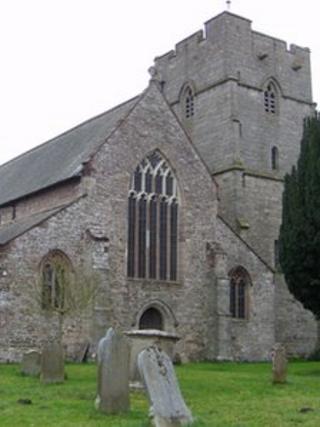 The funerals are due to take place later of a mother and son who died when their car collided with a tractor in Herefordshire.
Kate Boughton, 35, and her son Samuel, 13, lived in Combe and died in the accident on the B4362 in Lucton near Leominster, on 14 February.
A large congregation is expected for the service at St Andrews Church in Presteigne at 12:30 GMT.
A memorial service will also take place in their former hometown of Wednesbury.
Part of community
Samuel, who was in the front passenger seat, died in the crash and his mother a short time after she was flown to Birmingham's Queen Elizabeth Hospital.
Ms Boughton's younger sons were seriously injured in the accident, but are now recovering at home.
Reverend Prebendary Stephen Hollinghurst is to conduct the service in Presteigne and says it has been a difficult time for the community.
"It is the sort of thing that happens elsewhere and when it happens in a tight-knit community like this it really brings it home to you just how vulnerable we all are.
"Any loss is sad, but when it is a mother and son lost in these sort of circumstances, your heart just bleeds for those left behind.
Simultaneous memorial
"They had so much of a part in this community although they hadn't been here very long, five or six years, but all three of the boys had been through the schools.
"Kate was very much part of the scene locally and they had made loads of friends and they had become part of the furniture in a very short space of time.
"So that double loss is felt all the more keenly for that."
The Boughton family was originally from Wednesbury before they moved to the Herefordshire-mid-Wales border.
The simultaneous memorial in Wednesbury will be using the same order of service as that in Presteigne.