Worcestershire Bechstein's bat research awarded grant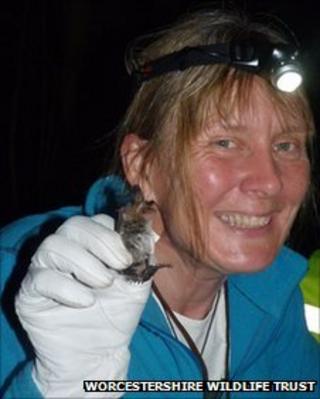 Research into colonies of rare bats in Worcestershire has been given a grant by a conservation charity.
Worcestershire Wildlife Trust has found populations of the Bechstein's bat in woodlands it manages.
The grant from the People's Trust for Endangered Species (PTES) will allow them to study more about the colonies.
James Hitchcock from the trust said: "We'll be able to work out how to manage similar woods to help secure the future of Bechstein's in the county."
The trust has been working with volunteers from the Worcestershire Bat Group for the past two years on a national project, organised by the Bat Conservation Trust.
The award will help the trust study the population size, foraging range and roosting ecology of the bats at Grafton Wood.
Mr Hitchcock said: "One of our aims is that we can help encourage other landowners and interested parties in Worcestershire and beyond to adopt a similar approach in their woodlands to ensure that the bat population has the opportunity to expand."
In 2010 Worcestershire Wildlife Trust and volunteers from Worcestershire Bat Group discovered Bechstein's bats in Grafton Wood as part of a national survey run by the Bat Conservation Trust.
The following year the bats were found in Trench and Goosehill Woods, 5km (3.1 miles) to the northwest.