London 2012: Call for rethink over Ledbury torch relay selection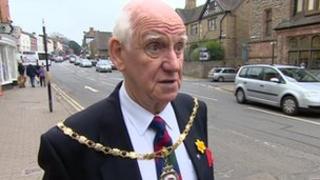 London 2012 organisers are being urged to reconsider a decision not to select anyone from a Herefordshire town to carry the Olympic torch through it.
One of the five people chosen to carry the flame through Ledbury in May is from Brazil, with others from Gloucestershire and Worcester.
Ledbury mayor Allen Conway has written a letter of complaint to London 2012 Games chief Seb Coe.
Locog said a "small percentage" of runners would come from overseas.
The organisation said it had also tried "to place people within an hour of their nomination postcode so friends and family can support them and celebrate their role."
On 24 May the torch will travel through Herefordshire on its way to Shropshire, passing through Ledbury, Bartestree, Lugwardine, Hereford and Leominster.
It is part of a 70-day UK tour ahead of the opening ceremony of the Games on 27 July.
But Mr Conway said organisers had made a "serious PR error".
"I'm quite happy that someone from Brazil is running through... but I believe that one of the other four positions could have been given to someone from here or Herefordshire," he said.
"Why haven't we got a Ledbruian or Herefordian running? One of the five could have done.
"I think they have made a serious PR error but I don't think it will change their opinion.
"I have written a letter to Lord Coe to express my dissatisfaction."
In a statement Locog, of which Lord Coe is chairman, said: "The slotting process is very complex - we are allocating 8,000 Torchbearers to a 300m slot on an 8,000 mile route.
"Making one small change would effectively change all subsequent slots. We give each Torchbearer the choice to accept their position based on this date and location.
"Through our partners and global sponsors a small percentage of runners will come from overseas.
"We've always been clear this would be the case - the Games are a global event.
"A small number people from the UK have run overseas in every previous relay and ours is no different in this respect.
"They tend to be grouped together for logistical reasons and each of these runners will have a story of a personal best or will have made a contribution to their community."