Herefordshire volunteers appeal for more conservation helpers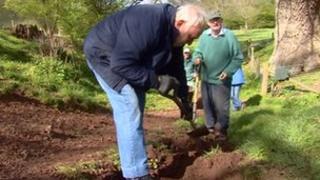 Residents who help to care and conserve the Herefordshire countryside are appealing for volunteers to join them.
They have been inspired by the Cotswold Voluntary Wardens, an organisation formed in 1968 to help clear footpaths, dig out ponds and repair dry stone walls.
The volunteers hope to create a movement like the organisation and would become available on request.
Elizabeth Holley, from Herefordshire Voluntary Wardens, used to be a Cotswolds Warden and thinks it is a "great thing to do".
There are currently over 340 members of the service in the Cotswolds.
'Really vital'
Ms Holley said: "We used to save around 40,000 man hours of work in the Cotswolds that paid people would have had to have done or wouldn't have been done.
"When I got here [Herefordshire] it seemed a shame that there wasn't a countrywide organisation.
"Any organisation, or farmers, who needs more help can ask us to help out by invitation.
"It's something people in the Cotswolds started because they really wanted to conserve the area. The work party used to go out every week, there was always plenty of work. They'd go out, have a great time and then have a pub lunch."
Herefordshire Council countryside officers said their budget is less than £100,000 to maintain the countryside for the whole county.
And it is the maintenance of the county's orchards that the council is especially interested in having help with.
James Bisset, principal countryside officer at the council, said: "It is a problem that the traditional orchards are not really economic because of the time taken on the big trees to do the pruning and the general maintenance.
"They're the ones that tend to be neglected, but they're the ones that are really vital for the landscape and wildlife.
"If there is a group that's able to help out with that and undertake some of that work for different owners, that'd be really good."