Worcestershire hospital increases heart attack treatment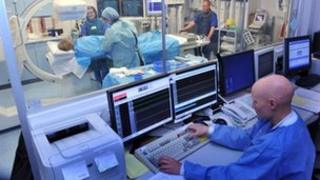 Heart attack victims in Herefordshire and Worcestershire will be able to receive a life-saving treatment 24 hours a day from September.
Currently patients with narrowed or blocked coronary arteries have to be taken to other hospitals in the West Midlands out of hours.
Worcestershire Acute Hospitals Trust said a 24-hour service means 250 more patients could be treated each year.
The service is currently available Monday to Friday 09:00 to 17:00.
Outside these hours patients are sent to hospitals in Birmingham, Coventry and Wolverhampton.
The trust said the procedure produces the "most effective results and outcomes" for people who have just had a heart attack.
In the treatment, a catheter is inserted into an artery in the leg and a balloon is pushed to the blocked coronary artery and inflated.