Time capsule to be buried in Upton-upon-Severn's flood wall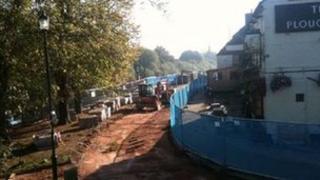 Historical artefacts dug up in a Worcestershire town are to be buried in a time capsule in its new flood defences.
Archaeologists found clay smoking pipes from the Kings Head pub during flood wall work in Upton-upon-Severn.
The capsule will also contain stories and photos of the pub as well as drawings and letters by school pupils.
It will be buried by the Environment Agency and West Worcestershire MP Harriet Baldwin on Friday.
Ms Baldwin said it was "extremely interesting to see some of the artefacts uncovered by the work, including evidence of river crossings dating back to the Civil War".
Upton-upon-Severn suffered severe flooding in 2007.