Drought and flood responses need to change, farmer says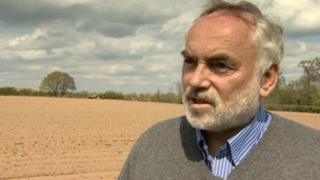 A Worcestershire farmer says the country needs to become more responsive and more sophisticated in dealing with changing weather conditions.
Stephen Watkins farms about 1,000 acres of arable land at Severn Stoke, near Upton upon Severn.
For four miles his farm runs alongside the River Severn, while the River Avon also runs through his land.
But, rather than being the lifeblood of his farm, he said the rivers were a constant danger to his crops.
"I accept that I farm on a flood plain. But I also have to pay heavily for water," he said.
Mr Watkins said his vegetables and horticultural crops were sensitive to drought as well as flash floods, with either situation capable of destroying his livelihood.
'Bureaucratic and inflexible'
Currently Severn Stoke falls within an official drought zone, while at the same time the River Severn threatens to breach its banks.
Despite the high river levels he said getting permission from the Environment Agency to pump water to where it was needed was expensive, slow, bureaucratic and inflexible.
"I have to notify the Environment Agency every morning if I wish to abstract to check there's sufficient flow in the Severn to do that," Mr Watkins said.
"It's like buying a train ticket. You'd think it would be straightforward, but there are so many variables."
As the Severn is a "supported river" with flow controlled upstream, Mr Watkins said he had to pay three times more to pump water from that, compared with the Avon.
He added: "The Environment Agency inform me by letter if I can take water from the Avon, but by then the river levels can change a lot.
"It all needs digitising far more. Even online, I would like to see real-time river levels, rather than something 12 hours old."
Paul Crockett, from the Environment Agency, said: "We've pushed the system as hard as we could in terms of legally what we could do to help them [farmers].
"The system we've got at the moment needs to be reformed to be more flexible. It's not easy to change a system that's been in place for 50 years.
"We've tried to be as flexible as we can with farmers and if a farmer starts having trouble in terms of licensing regime, if they come to us we'll see what we can do."
Mr Watkins said farmers were often uncomfortable dealing with official bodies.
"To the individual who's abstracting that water it's make or break for the whole business.
"That makes it very difficult to sit down with an official who you feel doesn't understand your situation."