Tories lose control of Worcester and Wyre Forest, Labour gain Redditch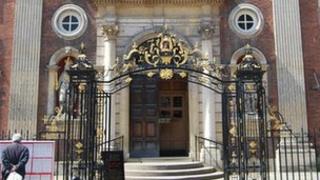 The Conservatives have lost overall control of Worcester City and Wyre Forest District councils while Labour have gained Redditch Borough Council.
Labour gained three seats but failed to claim a majority in Worcester where the Lib Dems and Green Party could hold the balance of power in a coalition.
In Wyre Forest, the Independent Community and Health Concern party gained three seats.
Only Labour and the Tories now have seats in Redditch.
Around a third of seats at all three local authorities were up for election.
Simon Geraghty, Worcester City Council Leader, said it had been a "mixed result" for the Conservatives, which had held a one-seat majority, and it was still the largest party with 17 of the 35 seats.
"This result hasn't been as bad as some people are claiming," he said.
He said he believed people wanted to see improvements the party had made in power continue, such as city regeneration.
"We need to do what we have always done which is to work for the best interests of the city - to put the city first with our pledges in the back of minds trying to implement as many of those as possible, but we will have to compromise," he said.
Meanwhile, Neil Laurenson, who won the St Stephen ward for the Green Party, said: "A pleasant surprise. We not only won but by 300 or so votes and it's a vindication of 21 months of hard campaigning."
He added he knew he would be involved in discussions about council allegiances, but his priority was his ward.
"I'm really focused on decisions that relate to St Stephen and not the overall make up of the council," he said.
In Redditch, Labour added four seats their tally to gain a majority of one as they wrestled control from the Conservatives. The Lib Dems no longer have any borough councillors.
• All the latest election results are available at bbc.co.uk/vote2012