Herefordshire Jubilee trow named The Hereford Bull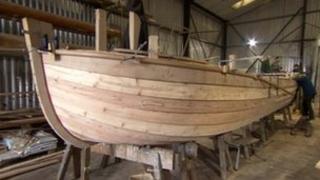 A boat which will represent Herefordshire in the Queen's Diamond Jubilee celebrations next month has been officially named.
The Hereford Bull has been built in Gloucester, based on designs of the Wye trows, which ferried cargo along the rivers Severn and Wye 200 years ago.
The trow will join 1,000 other boats in the Jubilee River Pageant on the Thames in London on 3 June.
It was named at a special ceremony in Hereford's High Town at 11:15 BST.
The 36ft-long (11m) vessel is due to leave the county for London, by road transport, on 21 May.
The replica trow has been funded by an anonymous donor and has been built from timber sourced from estates across Herefordshire.
It will be crewed by a team of 10 volunteers wearing period costume, eight of whom will row the three-tonne craft.
The Hereford Bull will be skippered by Rear Admiral Phillip Wilcocks.
The River Pageant will be one of the central events to mark the Queen's 60-year reign.