Stone statue of knight stolen from Ledbury church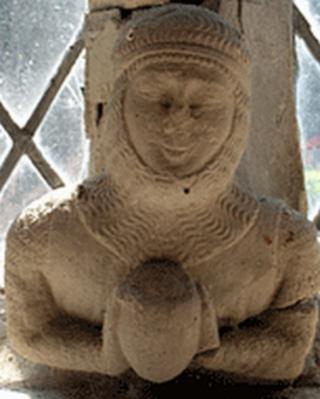 A small stone statue of a knight, believed to be a war memorial to a man who died in the Crusades, has been stolen from a church near Ledbury.
Police said thieves used a hammer and chisel to cut it from a window frame at St Michael's Church in Castle Frome.
Church warden Louise Manning said: "To most people this statue is of no value at all, but for a collector of medieval art it has huge value.
"This isn't an opportunist job, because they had the right tools."
She added: "At the end of the day it is an object, a church is about people and community, but it is sad that someone can come into our building and desecrate it in this way."
'Stolen to order'
The carving, depicting a knight holding a heart, is about 9in (22cms) high and 6 in (15cms) wide.
Church historians believe it was dedicated to a knight who died in the 11th or 12th Century fighting in the Crusades and may have been a member of the de Lacy family who built the church.
Police said the statue was taken between Sunday morning and Wednesday night.
Anni Holden from the Diocese of Hereford said: "We encourage our churches to be open so that people can wander in and have a look around, so to have someone go in and steal things is unfair.
"People don't normally go about with a chisel in their bag ready to chip at a piece of stone and take it home with them, so there is a concern that these things are being stolen to order."