Panto cow and unicorn in St Richard's Hospice charity race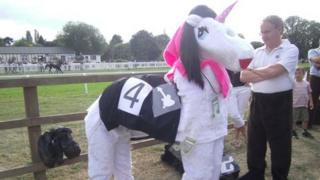 A panto cow, unicorn and camel will try to beat the usual field of pantomime horses at a special event at Worcester Racecourse.
Eleven teams of two will compete in the Panto Horse Race to raise money for St Richard's Hospice.
The higher number of entrants this year meant other costumes had to found, the hospice said.
The hospice, which provides free palliative care and supports families, expects to raise more than £3,000.
Lizzie Brazier, St Richard's Hospice fundraiser, said the race, which is its fourth year, usually attracted seven or eight teams but this year had seen a "fantastic response".
"If it is anything like last year it will be very funny to watch and the teams love the crowds cheering them on," she said.
The teams will "gallop" over one furlong in the race with prizes for the first three to finish and the best turned out.