Olympic torch carried by teenage hospice ambassador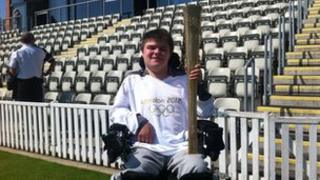 A teenage ambassador for a children's hospice was one of the last torchbearers on day six of the Olympic torch relay.
Alex Jordan, 17, has Duchenne muscular dystrophy and is an ambassador for Acorns Children's Hospice.
He carried the torch in his electric wheelchair along Droitwich Road in Worcester.
The torch travelled from Gloucester to Worcester, with an evening celebration at Worcestershire County Cricket Club.
Here the cauldron was lit.
Earlier in the day, elephants at the West Midlands Safari Park performed a "trunk salute" for the Olympic torch.
The Worcestershire Express steam train, from the Severn Valley Railway, stopped at the park in Bewdley.
Former Olympian Sharron Davies carried the torch through Leominster, Herefordshire.
Christine Hood, 69, was another one of the torchbearers in Leominster.
She has worked at the Royal College for the Blind in Hereford for 10 years, introducing the Duke of Edinburgh programme and taking the students on trips across Europe.
'Truly incredible'
Ms Hood's son put her name forward as a torchbearer, which she found out while in Brussels.
She said: "It was just a phone call, 'Oh, by the way, mum, I have nominated you', about two months after he did.
"And then, of course, I had a letter. I really didn't expect it."
West Mercia Police reported on Twitter that crowd figures for Ledbury were 10,000, 2,000 in Bartestree, 25,000 in Hereford and 5,000 in Leominster.
Worcestershire County Council said on Twitter: " Approximately 25,000 people enjoying the Torch Relay in Kidderminster #torchrelayworcs ."
The torch also passed through Shropshire where Stuart Watson, 16, was one of the torchbearers in Cleobury Mortimer.
Stuart lost his father to cancer in 2009 and now raises money for cancer research and works as a volunteer in a shop for the PDSA animal charity.
He described his moment with the flame as "incredible, truly incredible" and spoke about his late father.
"I think he would be so proud of me right now - it's unbelievable."