Cricketer Graeme Swann fined for driving offence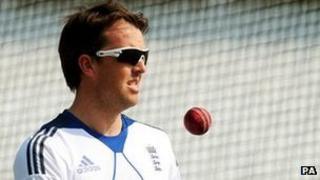 England cricketer Graeme Swann has received a £750 fine and six points on his licence for a driving offence.
The 33-year-old bowler was found guilty of failing to identify the driver of a vehicle who was alleged to have committed a traffic offence last year.
Following the trial at Kidderminster Magistrates' Court the Nottinghamshire spinner was also ordered to pay £620 court costs.
The charges related to an offence committed before 9 June, police said.