Diamond Jubilee: Hereford Bull boat ready for pageant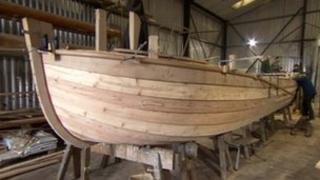 The Wye Trow, representing Hereford in the pageant to mark The Queen's Diamond Jubilee, has been shipped to London and lowered into the River Thames.
The 36ft-long trow the Hereford Bull was craned into the river at the MSO Marine boatyard at Brentford.
The trow was moored near to the Gloriana, the replica of a royal barge that will lead the pageant.
On Saturday, it was brought down river to moor overnight at Kew Bridge.
In Worcestershire, churches across the county have been marking the Diamond Jubilee.
St Wulstans in Worcester held a red, white and blue fair, with proceeds going to St Richards Hospice.
St Kenelm's Church in Upton Snodsbury hosted a flower festival with the theme Coronation Day.
See all the latest Diamond Jubilee news and features at bbc.co.uk/diamondjubilee