RSPCA finds sheep in Herefordshire field manhole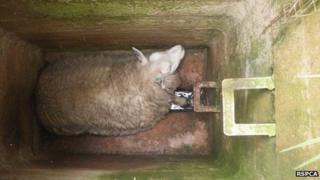 A sheep was rescued after being stranded down a manhole in north Herefordshire.
The ewe was found stuck in the manhole, which was in a field, by a surveyor investigating a blockage on Tuesday.
It was by "sheer chance" that she was found as there were no other sheep in the field and no-one was checking the area, the RSPCA said.
The ewe, which was able to drink water inside the manhole, was released back to her flock unharmed.