Petition to save A&E at Alexandra Hospital, Redditch receives 1,000 names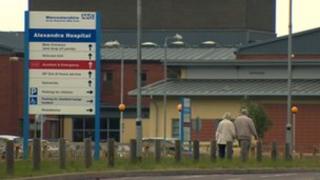 A petition opposing the closure of an accident and emergency unit at a Worcestershire hospital has been signed by more than 1,000 people in four days.
A&E could close at the Alexandra Hospital in Redditch as part of a shake-up of NHS services in the county.
Worcestershire Acute Hospitals NHS Trust said it needs to save £50m by 2015. Hospitals will also be hit in Worcester and Kidderminster.
It is looking at having one A&E department in the county.
A series of public meetings are being held to explain the proposals and to discuss the six proposals put forward.
Decision in December
The Trust has blamed the shortfall on the rising cost of drugs and increased demand, due to people living longer.
Neil Stote, from the Save the Alex Campaign, said: "Redditch needs that A&E because if it doesn't, people have to travel 30-40 minutes plus.
"I think there's arguments for specialist treatment centres, but the A&E... we're talking about lives."
The plans, which have yet to be finalised, could see emergency cases from Redditch treated in Birmingham, some 15 miles away (24km).
Redditch's A&E could be turned into a minor injuries centre, similar to one currently operating in Kidderminster.
Under the proposals, Kidderminster Hospital would also see surgery moved to Worcester.
The Trust said that a final decision will not be made until December at the earliest.