Churchill letters found in Worcester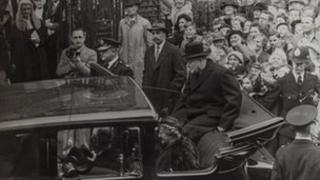 Letters and other documents from Winston Churchill have been found in Worcester after more than 60 years.
Dating from 1947 to 1950 they relate to the then Mr Churchill being granted the freedom of the city following the end of World War II.
The records show the struggle of successive mayors to arrange for him to visit the city after he accepted the freedom in 1945.
The documents were discovered during a spring clean at Worcester's Guildhall.
They were found in a filing cabinet in the Guildhall manager's office. It is thought they were stored there for safekeeping, Worcester City Council said.
They include seven letters signed by Mr Churchill and others sent to him from the city's mayor Alderman Thomas Bennett, encouraging his to visit Worcester.
In 1950, hundreds of thousands of people turned out to greet him as he toured the city in an open car.
Sheena Payne-Lunn, Historic Environment Record officer, said: "What is remarkable is just how much detail is contained within the collection.
"It is a colourful reminder of the impact Churchill had on our nation during its darkest hour, and of the outpouring of public gratitude that he received after World War II."
They have now due to be recorded in detail, before going on display at Worcester City Museum later in the year.