Ex-Worcester City star Lee Smith fined for abusive tweet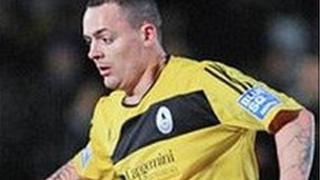 A former Worcester City footballer has been found guilty of writing threatening, abusive or insulting words after posting a comment on Twitter.
Lee Smith, 28, who lives in Gloucester, was told to pay £600 in fines and costs after tweeting a comment from his account on Armistice Day last November.
Smith was said to have used offensive language and called for illegal immigrants to be killed in a tweet paying tribute to fallen soldiers.
He had denied the charge.
In November, he was temporarily suspended by the club and arrested on suspicion of committing a public order offence.
The club lifted its suspension the following week and Gloucestershire Police said they had advised Smith about his behaviour but no further action was taken.
However in April, the Crown Prosecution Service said he had been charged.
On Wednesday, Cheltenham magistrates ordered Smith to pay a fine of £100 and cover prosecution costs of £500.
His contract with Worcester ran out at the end of the season. He had joined the club from Nuneaton Town in September.