Alexandra Hospital A&E plans 'could be reviewed'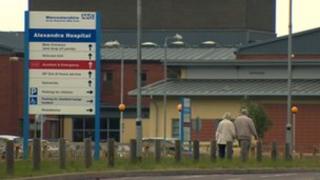 Plans that could see a Worcestershire A&E unit close may be independently reviewed, the government has said.
Last month the trust which runs three hospitals in the county announced a shake-up of services.
The proposals included the possible closure of the A&E and maternity units at Redditch's Alexandra Hospital, which have attracted the most criticism.
Secretary of State for Health Andrew Lansley said there needed to be "clinical benefits for patients".
A number of options have been put forward by Worcestershire Acute Hospitals NHS Trust, which operates hospitals in Redditch, Kidderminster and Worcester.
It said it needed to find £50m by 2015, blaming the rising cost of drugs and people living longer.
A final decision is expected to be made in December.
More than 23,000 people have signed a petition against the proposals for the Alexandra Hospital.
'Specialised services'
Mr Lansley said it was important the trust listened to the views of local people, as well as clinical staff.
He said there was a balance to be struck between access to treatment locally and "high quality, specialised services".
Campaigners said patients in the Redditch area could face journeys of up to 25 miles for emergency treatment.
"I think they [the trust] need to define what it is that gives best service to patients," Mr Lansley said.
"My role is firstly to make sure those decisions are subjected to the right tests.
"What I'm trying to create is a service that is locally led, by doctors and nurses who we trust.
"But there is an opportunity, if the public and their representatives don't agree, they can send it to me and I will have it looked at independently."
Neil Stote, from the Save the Alex campaign, said he would welcome the Secretary of State's intervention as early as possible.