Dilwyn Primary gets free school status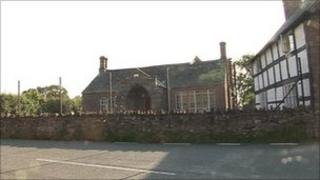 A school run by volunteers that was closed down by Herefordshire council has been granted free school status.
St Mary's CE Primary School Herefordshire Primary was reopened as Dilwyn CE Primary in September last year after being closed in August.
Since then it has been run as a non-fee paying independent school after it was denied academy status.
A second Herefordshire school and one in Worcestershire have also been granted free status.
Robert Owen School in Leomnster for 500 pupils and the ContinU Plus Academy Worcestershire Secondary are also both due to open in September 2013.
'More freedom'
Dilwyn CE School near Leominster, which has 30 pupils, uses a building owned by the church and teachers living nearby have given up their time for free.
The maintenance of the school is done by parents and community volunteers while the resources are funded by donations.
Dilwyn's headmaster John Gerrish said: "Free school status does have greater freedom in terms of salary structures, times of day, times of terms and greater flexibility.
"But the greatest thing is being free of local authority control which has proved to be so inhibiting in the past.
Mr Gerrish, who retired 20 years ago, said it has been immensely satisfying to keep the school running in the past year.
A consultation asking views from Herefordshire Council, the Church of England and members of the community about the plans for Dilwyn will take place ahead of it opening as a free school in September next year.