Flood alerts lifted and ground water recedes at New Road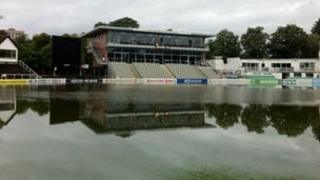 All flood alerts affecting Herefordshire and Worcestershire following recent heavy rain have been lifted by the Environment Agency.
Water covering Worcestershire County Cricket Club's ground at New Road has also receded, according to the club.
The pitch was flooded on Sunday evening with up to 18in (45.7cm) of water.
Head groundsman Tim Packwood said: "It's dropped down considerably and we're hoping within the next couple of days the whole field will be clear."
The water has not affected the club's home match schedule but some small functions have been moved or postponed.
A flood alert issued over the weekend for the River Severn has also been lifted.