Worcestershire flood protection work to be unveiled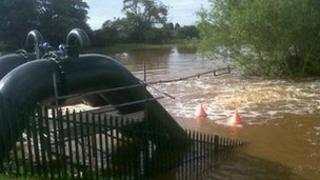 A £1.5m flood alleviation project will soon be opened in Worcestershire.
Villagers in Kempsey, near Worcester, said they had been flooded more than 20 times in the past 30 years.
The project, which took almost 12 months to complete, was delayed after a medieval burial ground was found at the site.
A 180m (590 ft) earth embankment, protecting the village from the River Severn, is due to be unveiled at an event on 28 July.
Pumps, working in tandem with sluice gates, have been designed to allow the Hatfield brook, which runs through the village, to join the river during floods.
The system has already been in action in recent weeks.
Campaigners, who set up the Kempsey Flood Action Group in 2009, said they had been lobbying for the embankment for more than 20 years.
It is one of seven flood prevention projects set up by the Environment Agency in the county since 2007, costing almost £10m.
In 2007 more than 150 homes in Kempsey were damaged by flash floods.