Breme Care Home workers sentenced for wilful neglect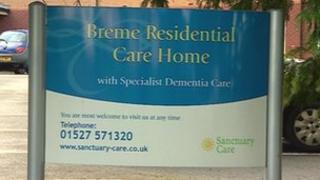 Three former care home workers from Worcestershire have been banned from working with vulnerable adults after being found guilty of wilful neglect.
Gail Broadway, 38, Glen Walsh, 23, and Maxine Turbill, 46, were all given suspended prison sentences.
Thomas Milroy, 85, who had dementia and stayed at Breme Care Home in Bromsgrove, died in January.
Police said Worcester Crown Court heard checks that should have been carried out on Mr Milroy did not take place.
The three workers were charged in relation to the care of Mr Milroy after he had to be taken to hospital after being found lying on the floor of his room.
'Life-shortening event'
Broadway, Walsh and Turbill, all from Bromsgrove, were all given suspended sentences and banned from working with vulnerable adults and young people under the age of 16.
Walsh, of Granary Road, and Broadway, of Lyttleton Avenue, were sentenced to four months suspended for 12 months and ordered to carry out 120 hours of community service.
Turbill, of Grayshott Close, was sentenced to two months suspended for 12 months.
Police said Mr Milroy's family had welcomed the guilty verdict following a seven-day trial last month in which the defendants denied the offence.
A statement on behalf of the family from Nesbit Law Group LLP said: "We firmly believe that as a result of the care he received we lost the man who we knew and cared for as Dad.
"Instead [he] ended up a frail old gentlemen unable to stand weight bearing, let alone walk.
"Dad was in hospital for five weeks and we believe this whole incident was a life shortening event for him."
Care home review
The care home operator Sanctuary Care said there were robust systems in place to ensure patient safety.
Managing Director Steve Wood said: "Unfortunately, on this occasion, some members of staff failed to follow procedures in accordance with their training and the high standards we set.
"We co-operated fully with the police investigation and launched our own enquiry, resulting in these members of staff being dismissed. We also conducted a review of the home."
Police said it was rare for such cases to come to court.
Det Con Paul Lofthouse said: "This has been a very complex and tragic case and our thoughts are with the relatives of Mr Milroy."