Worcester councillor Allah Ditta admits grave dig threat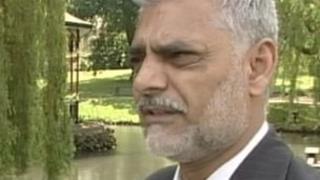 A former Worcester mayor has admitted threatening to dig up a man's body if his family did not pay for the burial.
Councillor Allah Ditta, who manages the private Muslim cemetery in Perdiswell in the city, made the threat in a conversation with the deceased's son and secretly recorded on his phone.
Mr Ditta said the words were in "the heat of the moment" and he had no intention of carrying out the threat.
He said a family member had since agreed to pay the £400 bill.
Ruhal Hussein said he was trying to pay respects to his dead father when he was approached by a "berserk" Mr Ditta.
"No human being should be shouting and screaming like this at the front of a graveyard," he said.
Mr Hussein said he was "disgusted and upset" by the experience.
He said he now goes to pay respects to his father when he knows Mr Ditta will not be there.
"I don't go there that often now. I just leave it alone and just go and pray and I go in the night-time sometimes - in the evening so I don't have contact with him anymore," he said.
Disputes rare
When asked by the BBC if he told Mr Hussein that he would "dig up" his father's body, Mr Ditta admitted making the threat.
Mr Ditta said: "In hindsight, no I probably wouldn't use those words, but certainly I wouldn't back away from the fact somebody's got to pay.
"Crude as it sounds, you can't have something for nothing."
Mr Ditta said the man had been buried six to eight weeks ago and disputes over unpaid bills were rare.
The Conservative councillor, who has managed the cemetery for the past 30 years, said it had been run largely on a "matchstick and voluntary basis".
He said he planned to urge the three local mosques that it serves to pay for legal services to resolve similar disputes in the future.