Malvern Museum launches appeal to restore gatehouse home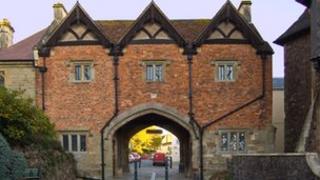 A 15th Century gatehouse that houses a Worcestershire museum needs more than £80,000 of restoration work, according to the charity that runs it.
Malvern Museum is housed in what was originally the gatehouse to the town's medieval Benedictine priory.
An appeal has been launched to raise money to restore the stonework, roof and windows.
Spokesman Gill Butler said the gatehouse was an "historical gem" and "their finest exhibit".
The building was damaged in the 1980s when a vehicle became stuck under the archway. The road has since been closed to traffic.
The exhibits include rooms dedicated to the town's water, which was believed to have healing powers, and the role Malvern played in the development of radar in World War II.
The museum is a registered charity and is run entirely by unpaid volunteers.