Malvern Link station revamp to restore 'heritage and history'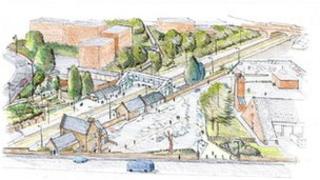 A £500,000 redevelopment will restore the "heritage and historic feel" of a Worcestershire railway station, according to the county council.
The original Victorian buildings at Malvern Link railway station were demolished in the 1960s.
The plans feature two new buildings, including a booking office, a new platform canopy, more lighting and Victorian-style fencing.
Worcestershire County Council will consider the plans in October.
There are also proposals to increase the capacity of the station's car park, and for better disabled and pedestrian access.
Malvern Link station opened in May 1860.