CCTV appeal after Malvern to London train hits scrap rail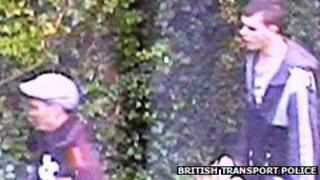 CCTV images of two men wanted for questioning after a train hit an object in Worcestershire have been released by British Transport Police (BTP).
The train hit a length of scrap rail on the line in Malvern on 22 August.
Det Insp Andy Irwin-Porter said: "This was a serious incident which could so easily have resulted in tragedy."
No-one on the Great Malvern to London Paddington service was injured in the incident and the train was not derailed.
The BTP said they were investigating how the object came to be on the railway line and whether it had been placed there deliberately.
The police are appealing for anyone who recognises the men to contact them.