Wick triple crash deaths ruled accidental by coroner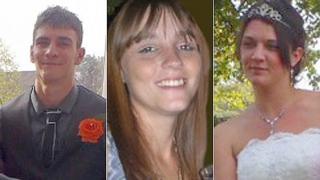 A coroner's court has given a verdict of accidental death in the case of a woman, her brother and his partner who died after a crash in Worcestershire.
Worcestershire Coroner's Court ruled that Elizabeth Stanley, 24, her partner Luke Morris, 22, and Mr Morris's sister, Rebecca Townsend, 26, died as a result of the accident.
Their car left the B4084 and hit a tree in Wick, near Pershore in June.
The speed limit in the area has since been reduced from 50 to 40mph.
Worcestershire County Council had said a safety review of the B4084 was already under way before the crash happened.