Fort Royal Worcester: Bid for £1m for civil war site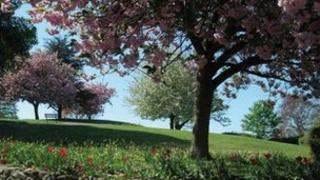 A park in Worcester described by a US President as "holy ground" where "liberty was fought for" is the subject of a £1m lottery funding bid.
Fort Royal Park was a key site in the Battle of Worcester in 1651.
Future US presidents John Adams and Thomas Jefferson visited the park in 1786. Adams gave a speech saying that "all England should come in pilgrimage to this hill, once a year".
The city council wants the lottery money to improve the park.
Their plans include making a new crossing point linking the park to the Commandery Museum, which is housed in a building dating back to the battle.
Last battle
A new play trail, themed to reflect the park's history, is also planned.
After a public consultation earlier proposals to create a viewing point and install a high-powered telescope on the top of the hill have now been dropped, a spokesman said.
During the Battle of Worcester, Fort Royal was a key artillery position held by troops commanded by the future Charles II.
The capture of the fort by Parliamentary forces under Oliver Cromwell helped them defeat the Royalist forces.
The Battle of Worcester was the last action in the English Civil War.
The Heritage Lottery Fund will makes its decision over the funding later this year, the council said.